After ibr got his temensis on tuesday we made a return trip next day to the same place again, mondo and ibr came to pick me up in the morning and mondo will be heading to work straight after fishing. Normally if we are going to places that need to bash or need to stand in the water we will wear those PCK boots that is why sometime you will see us wearing PCK walking around in beach rd lol that morning he came with the PCK but forgot to bring his working shoes when he came out from his hse.
If he go back to take his shoes then it will be a bit late liao so i told him if you don't mind wearing a bigger size shoes i can borrow you mine hahaha , but surprisingly it was a nice fit hahaha.
Reach and start to fsih around 6.45am i was using the "tommy" Pencil walking the dog on the surface but seems like they are not interested in top water that morning, so i change to minnows and fast twitching it but still they are not taking. Same goes to the others ibr ,sh and mondo i guess they had try all kind of lure liao but also no takers.
So suddenly i had a tot in mind if normal PB goes for flies maybe the tememsis will fall for it too so i took out a surf candy (90mm) i tie recently.
Oh ya just to share how i use those flies, as you know flies are to light for us to cast if you are using spining or bc setups the only way is to add a split shots on your leader this is call spin fly. I'm using a 3.5g splitshot and clip it on my leader about 12-15cm away from the flies, positioning the splitshots affect the action when you work your flies so try cliping it at diff length and you will know what i meant kekeke.
Ok back to topic
After changing to the surf candy on my 5th cast immediately i had a take about 3 meter away from the bank. Set! fish on! not much line taken as i'm on high drag kekeke i just love the loud and huge splashes, sh quickly took out his grip when i pull the fish in and graped the fish up.
Yes! yes!..... finally my first temensis!.... and it weight a good 3.5kg!
fish was released after photos
I moved away from the group after i release the fish just to give more space for others to fish as the lobang are quite limited on space to cast. Moment later mondo came to look for me i was like WTH then i told him "don't come here this hole no good de i try before liao no takes at all one , go back to where i kena the fish that side better" Once i finish telling him that we heard SH shoutting kena kena and splashes lol see i told you mondo that side better hahaha. we ran over to see what sh hitted , wow it was another good size temensis. The fish ran left and right trying to dash into some structure along the bank lol hmmm actually the fish ran into the structure liao la but luckly sh was using rubbers, hook are not expose out side the mouth so lower the chance of snaging. sh manage to pull the fish out safely.
Mondo griped the fish up once the fish came in.
another good 3kg temensis on stillbait
Fish was released after photos
Time is running out for mondo kekeke as he needs to go work soon.... but lucky he last min changed to flie also and landed a temensis.........
A mini one :X
After mondo goes to work me ,ibr and sh go for round 2 at another spot but hai.... only sh landed 2 small pbs , ibr still zero fighter on that day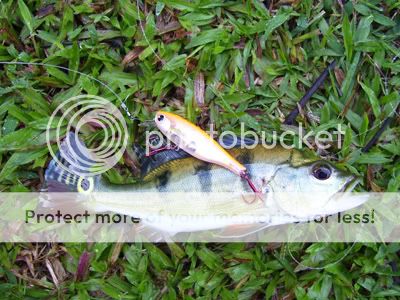 Both fish was released kekeke