I'm back from the KTM resort trip last weekend, kinda sad about the fishing part. The fishing sucks big time anyway i was expecting that to happen lol as thomas went ktm few months back and i got some info from him liao.
but i like the stay it was very nice and releaxing, a very nice place to take a break from stress.
We are taking the 9.20am ferry at harbour front centre to batam. Few of us had our breakfast at a small stall at level 2. (food was a bit expensive lor)
We had some extra time so went down to smoke and happen to bump into a friend which is working there and he told us to check in early or else the Q will be very long kekeke.
After about 40mins we finally are in batam and the mini bus from KTM resort are waiting for us liao.
Journey to the resort was less than 10min
Checking in
Its not nice to point at the camera like this you know kekeke
The restaurant
If i'm not wrong the last trip AG,TT and necro took a room quite high up and need to climb all the way up but lucky this time we booked the lower ones.
This are the only stairs we need to climb to reach our room
This is where we are going to stay, there is a small pond outside the room with some pacu.
Our stay
Our tackle
And here are some photos i took around Ktm
In the evening we went to the town area for A&W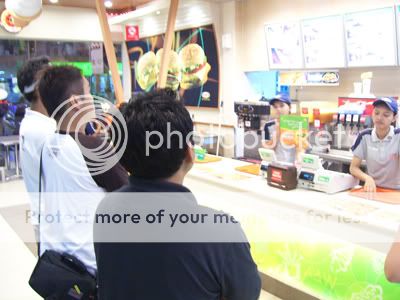 Shopping.... oh ya we saw sticko in batam too
Sticko
The fishing
Ok the fishing is sucks if you plan to go for a fishing trip in KTM you can forget about it. Me and SH went to almost all the area that we are able too on day 1 and 2, We try almost everything we had
Nothing!
Only catch was by necro
Oh ya the only place in the resort that we knew that hold fish was the lagoon we saw parrots, mullets , kim and some other fishes in the lagoon but but... you are not allow to fish in the lagoon lol. we try asking can we fish in the lagoon but kena reject lol they say the lagoon is for ppl to swim lol....
hmmm i don't think anyone will want to swim in that kinda water lor. lol if they open and made the lagoon for fishing i think they can make some money from there lol from anglers like us.
Feeding the fish in the lagoon is allowed and there is a stall selling fish pallet for visitor to feed the fish .
As for eging... i don't know lor as in the afternoon it rain quite a bit we only manage to land a few.
Sashimi
The restaurant food in the resort was nice.......
Some info done up by TT on how to get there
http://baktao.blogspot.com/2009/06/getting-to-ktm-resort-batam.html
]
or more info pls visit
http://www.ktmresort.com/index.html