On 13th Feb 2010 chinese new year eve me and my usual kaki's when for a day trip to one of our Fav kim spot and happen to bump into a group of fishes that came early to wish us happy new year lol.
We lannded a totsl of 10 barramundi in about 3 hours.
Ibr was the first to land the first fish of the day at the other end with mondo and sh, at the same time i lost a fish at the other end alone lol hai or else we can take pics together liao.
Lure used: rapala rattlin
After awhile SH came over my side and joined me, i told him about the fish i lost, it was on the black maria angel kiss 115. Moments later i had a hook up again the fish took me by surprise haha black maria rocks........
Lure used: maria angel kiss 115
SH after hepling me taking pics he went back to fish and he immediately snap on his black AK as well kekeke. Good news came 1 after another haha a double hook up this time with the black AK.
Mine was a nice 8 pounder fish that really put up a good fight lol it has been quite awhile never hit such good fighting fish liao.
Oh man we hitted the sweet spot i guess lol i had another small kim again, 3 fish landed in a roll... WIth the black AK.....
Poor mondo still zero fighter..... he looked so sad but we told him not to give up. Keep casting bro keep casting.....
Now its time for SH to perform this lucky kid also landed 3 more kims in a roll too hahaha so now he had 4 kims in total .
NB...... MIni
Lure used: Ima sasuke 120
LOL this was his smallest kim ever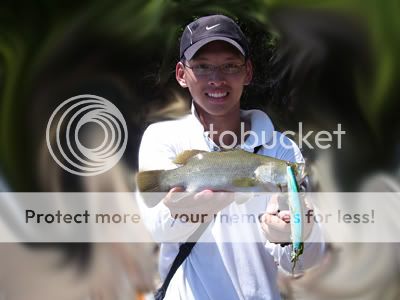 By now mondo was even more sad lol still zero fighter lor..... Maybe due to he dont like cats lol, its the year of cat liao mondo you better start to love cats k.
Before we started fishing a cat from dont know where came to play with us , the cat was so cute and clean me,sh and ibr gave the cat food and drinks maybe thats why we had so many fish.... kekeke
Well.... mondo somehow never gave up, 30mins later finally his hard work pays off he had 2 more barra in a roll with our all time fav rapala rattlin.
But too bad his 2nd fish has no pics cos we are to far away from him liao.
Total catch: 10
Team chilli
Ibr: 1
Mondo: 2
Team tomoto
Me: 3
SH: 4
5 fish was released, 5 was baged home for dinner.
A great closing for the year of Ox, hopefully in the year of tiger will be smooth for everyone.
All the best to all bro and sis :)