2 days ago we went for a night luring trip with our guest Mr KJ , we are planning to go for the beltfish. Reach location about 8.30pm and started casting but the first 30mins everything was quiet so we decided to move further down to the place where we are able to locate the beltfish better. I was using my fav lure maria angle kiss white 115 ,had a few takes from the beltfish but no hook ups. After a while ibr hooked up a beltfish the first fish of the night.
We bagged the beltfish and hoping to get more kekeke heard that it tasted good, oh ya even if we try to release, it might not survive too.
Just to share some tips the beltfish take floating lure size 105mm to 120mm with slow crank and once you feel any light tap strike it this will higher the chance of hooking it. If nothing was hooked up crank back the lure and check if the has any new teeth marks on your lure and you will know if its a beltfish attacked your lure kekeke.
Here comes the Unexpected visitor
As usual i was squatting along the breaker luring and when my lure came near, i had a sudden take and off it goes.......... OMG it was strong the rod i'm using could not even do anything to stop the fish, it stopped awhile i tried to pump it up but.... the rod sucks lol sec's later it took off again and thats the last run lol my main line was cutted off by the rock . SAD!!! there goes my fish and lure.... white AK!!!!!
What could it be? lol a big fish lor.... it might be grouper la lol well it could be anything but its big lol
hai.....
While i was redoing my leader yuki mondo hitted a small cuda just right in front of the breaker.
On the other side our VIP guest Mr KJ san had number of takes by the beltfish but non was hooked up lol his lure must have lots of small teeth marks by now kekeke. Don't worry KJ san they will be there waiting for you k.
Out of sudden i heard someone shoutting from the other end with laughters kekeke it was ibr finally he broke his dry spell with a nice 4lb grouper on a old school lure.
Bomber Long A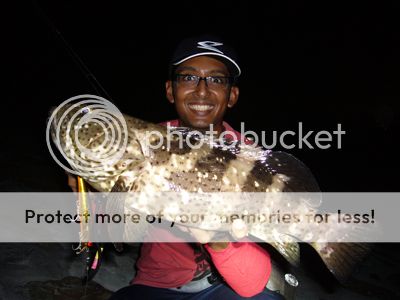 After all this we went to another loaction for cudas Mr KJ san was lucky to hit one but but but.......... hook came off maybe he set to many times liao la hahahaha. sad sad sad
we have to call it a day liao cos ibr got to work the next morning but we will be back again for more kekeke.
Yup we were back again last night but not much of action, only manage to land 2 beltfish by me on the full lumo aile magnet.